C0111
Cefotaxime sodium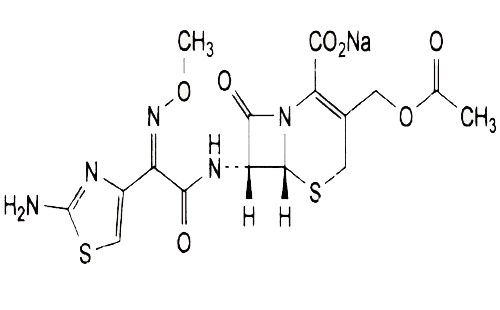 CAS number 64485-93-4
Molecular weight C16H16N5O7S2Na = 477.4
Assay 916 - 964 microg/mg

Cefotaxime is an inhibitor of bacterial cell wall synthesis. The antibioticum inhibits the crosslinking of peptidoglycan by binding and inactivating of transpeptidases. High activity against gram-negative bacteria. Very often used for elimination of Agro-bacterium species after inocu-lati-on. Cefotaxime has high re-sistance against ß-lac-tamase activity. Non toxic to plant cells.
Storage condition
Store dry at 2-8 °C
Soluble in water
Hazard statements
H317

May cause an allergic skin reaction

H334

May cause allergy or asthma symptoms or breathing difficulties if inhaled
Precautionary statements
P261

Avoid breathing dust/fume/gas/mist/vapours/spray

P280

Wear protective gloves/protective clothing/eye protection/face protection

P311

Call a POISON CENTER or doctor/physician

P342

If experiencing respiratory symptoms:
Filename
Batch number
Expiry date
Language
C0111_015922_GB.pdf
015922
06-2023
English
C0111_015683_GB.pdf
015683
04-2023
English
C0111_015478_GB.pdf
015478
10-2022
English
C0111_014652_GB.pdf
014652
02-2022
English
C0111_014243_GB.pdf
014243
07-2021
English
C0111_013840_GB.pdf
013840
02-2021

Expired

English
C0111_013575_GB.pdf
013575
12-2020

Expired

English
Login if your Certificate of Analysis is not listed here.